2023 CSA Early Enrollment
It's time to sign up for next year!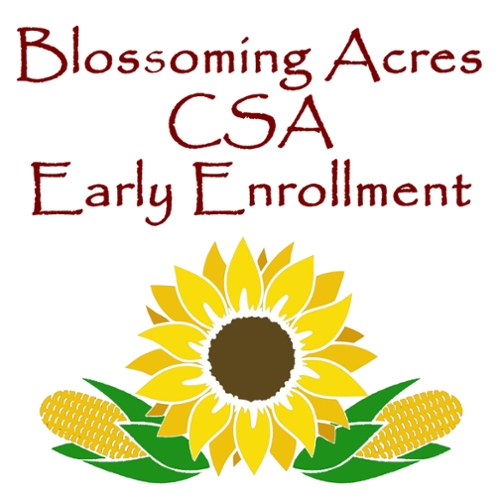 Thank you to everyone who joined us for the 2022 growing season. As we head into the end of the year, its time to start looking ahead to the next season. Early enrollment has started and will run until March 15. If you sign up during this time you will get extra money added to your CSA card. Regular enrollment gets you 10% added to your card. During early enrollment that changes.
SIgn up of $150-$299.99 will recieve 12% added to their cards
Sign up of $300-$599.99 will recieve 15% added to their cards
Sign up of $600 or more will recieve 20% added to their cards
You will still recieve 10 freebies throughout the season.
We understand that the current economic situation is hard for some people, and we are willing to help find a solution. To arrange a split payment you must contact Katie at BlossomingAcres@Gmail.com
Please consider giving a CSA membership as a gift! They make excellent family gifts to enjoy all season.
Posted: to General News on Sat, Dec 17, 2022
Updated: Sat, Dec 17, 2022